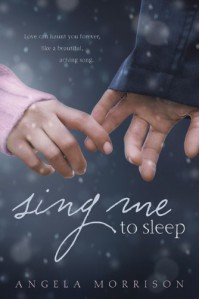 ***This review contains some mild spoilers***
This book has been a Christmas present (Thank you, Kim). And that makes not-finishing it pretty impolite (So sorry, Kim). But I also know, that Kim has the same opinion as I have when it comes to reading and pleasure: Spending time with a novel means having fun, means being entertained in the first place to us. And if a book starts to bore, to annoy or to make turning pages hard, there is always the possibility to switch books. I could peruse the question "Is it me or is it the book?". And in many cases I would have to admit: "It's me." But since we are speaking "hobby" here, the consequences would be the same: The book has to go.
I am very grateful for the chance to try this one, though, because:
- The writing is quite good.
- If one likes makeover stories that turn a hideous girl into someone pageant-worthy, "Sing me to Sleep" is perfect fodder. Pre-makeover Beth is described at being so hideous, that the children in the library where she jobs part-time after school are too afraid of her to let her read stories to them (questionable). The bullies at school have coined her as "The Beast" and offer Beth-based pranks for the school's entertainment. Like Mia in the first Princess Diary film, Beth has bushy, wiry hair that hides her scarred, acne-covered face and her thick glasses, which turn her beautiful blue eyes into tiny buttons. I addition Beth is taller than most guys and walks around hunchbacked in order to make her stand out less. Like in other makeover-stories I have read or watched (i.e.:
She's out of control
) Beth's problems are easily solved by investing some money and by making use of modern cosmetic surgery: The acne gets lasered off permanently (doesn't it return eventually?), the eyes get lasered to perfect vision, the hunch-back gets cured by the resolution to stand straight and the hair gets straightened on a daily basis. And - voilà - Beth is the owner of two surprisingly attractive legs and an impressive bust-line anyhow. Although I do not buy this kind of easy transformation and the bursts of confidence that go with it, I truly enjoyed Beth's new-found self-appreciation and the acceptance and awe of her fellow girls' choir's singers, when Beth reveals her magic power voice to the world. What rubbed me a little wrongly was that Beth didn't know that her best friend Scott actually did see the beauty of her real self all along.
- I liked the choir-centered plot. It doesn't always need to be sports, cheer-leading, rock music etc., does it?
What went horribly wrong and made me chuck the book:
- Beth and Derek meet. I somehow understand that Derek wants to maintain his sexy stud-reputation and craves a normal boy-girl relationship with the girl whose voice made him dream of the girl attached to it and without the emotions and reactions a complete honesty would have stirred up. And I cannot say what kind of teenager I would have been would I have had to deal with his hardships. Still, I get really upset when I get served a manipulative, controlling hero like him. Again and again he tries to influence Beth with unfair means, he makes her feel unsure about his affection, he distances himself, he lies more than he tells the truth. Maybe I even resented clingy and whiny and complying Beth even more. I know this feeling to be wanted and admired is new to her. But does she have to throw away all self-respect and beg - practically on her knees - for a chance to see him although he declined repeatedly?
- Beth, Derek
and
Scott blather non-stop about about "loving-you-forever", "can't-live-without-you", "running-away-and-having-a-couple-of-kids" and "supporting-a-family". Hell, these kids are 17! I don't deny that the depth of your feelings is not related to age, but eternal love in combination with high-school kids creeps me out in a major way. And I had the sour impression the author was on some kind of mission.
- The love triangle (no need to elaborate). How annoying
and
how convenient in the end.
I think, will not try another book by the author. I
do
recommend this book to those who do not mind love-triangles, oppressive heroes, dependent heroines and tearjerkers.